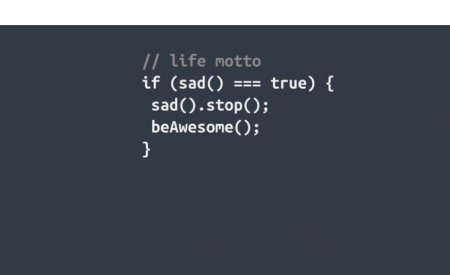 At a certain point in our lives, most of us had this "What do I want to do with my life?" question. Whether we asked it at college before choosing which major to study, or perhaps at a later stage where the real question was "Is this the right job for me? And will I be able to do this for the rest of my life?"
There are too many things in there, too many passions; thus our needs differ, in fact we sometimes are obliged to sacrifice these passions to choose the right career to pursue due to some reasons we can't actually control. Will I make good money? I'll still have time for my family? Will I progress? Will I regret my decision?
Without a doubt, being a developer definitely changed my life for the better. Moreover the fact that I was so passionate about development since I was a child added more flavor to the mix. Most of us as kids wants to become game developers due to the fact that we get fascinated by the games we grow up playing, well I personally wanted this real bad I've developed my own guessing game at the age of 14. The game was very simple, a random number is chosen and you'll have to guess it with the help of three result types: Bigger, smaller, you guessed it.
I believe the excitement I've had building the game and finally figuring out how to make it work back then gave me enough motivation to go through the 9 years that passed, and facing all the challenges to finally becoming a web and applications developer.
This not only impacted my professional journey, but also aspects of my personal life – all in ways I've never imagined when i first started learning programming languages.
Thus, here are 8 reasons why the decision i took 9 years ago helped me changing my life:
1- I have the freedom to make my own schedule
Despite the fact that I'm currently a lead developer at Triangle Mena, and even for my freelance projects I think this is the most cited benefit.
Sure there are deadlines, there are meetings but you always have some control on how the work flow to proceed.
2- The outcome is good
It's no surprise that developers make good money out of their projects, despite the fact that we sometimes have to work on some really complex tasks and perhaps working continuously for hours. But hey, if you love what you're doing and you're ready to go all the way with it, why not earn what you truly deserve?
3- I can say "No" to job offers
I recall not too long ago clawing for part-time jobs, projects and assignments. Basically taking anything I could get even if the compensation was less than ideal.
However, as I have become stronger with web and apps development, this is no longer the case. Nowadays I can just say "No, thanks" to uninteresting job offers I get everyday without worry, because I know opportunities are everywhere and on the other hand my job at Triangle Mena left me no hesitations on how happy and satisfied you can be working in a company.
4-I have extra time to pursue interests
Along with my full-time job in Triangle Mena in addition to managing my freelance projects, I always have time. No Really, I usually work an average of 10 to 14 hours a day but yes I still find time doing my favorite activities (going for a jog, watching Game of Thrones "or Suits, these shows are awesome", going out with friends, having quality time with my family…).
You see the formula is simple:
1-Knowing where you're strength points are (choosing the right programming languages/platforms)
2-Accept the fact that there is always room for improvements (finding most efficient working methods)
3-Managing and planning ahead your schedule (that includes even "personal" tasks)
4-Doing your work with love
5-I can (and Do) Work remotely
When you work with technology, there are more opportunities to work online, or remotely. Meaning it doesn't matter where you are – on vacation, at home or at Starbucks as long as you're doing the assignment. I personally never visited Canada, Saudi arabia or Germany but still I've done projects for people based in these countries.
6-It's easy to make side project dreams into reality
An Idea is all that I need to make any dream project a reality; knowing how to build a website or an app allows me to do just that, without hiring a developer which can be really profitable if the projects turned into reality. This always gives me hope, a hope that someday in the right circumstances I will find the right Idea and I would have the ability to turn it to reality.
Besides, There's this story of a Lebanese developer that really inspires me: the guy's name is Paul Salameh, he's 24 years old and he managed to develop an app that made a global Top 5 Paid iOS Apps list, you can read all about his success story here:
7- I am part of the world's largest community
Knowing how to build my own stuff is awesome, thus without the help of the open source community this never would have happened. Open sourced apps briefly offer the hard work of a motivated developer or a group of developers to the use of everyone and for free. This concept really helped millions around the world turning an idea into a million dollar app without having fancy resources, in addition gave birth to stuff you use everyday like android and google services. I personally value open sourcing and I always try to contribute for it by writing my own plugins and libraries, thus we also encourage the use of open sourced apps at Triangle and we offered several extensions of issues we've faced with the projects we worked on.
I also dedicated a separate post for open sourcing and how it is changing the world, you can read it here.
8- I have a sense of Self-Reliance
Throughout the years, despite the university courses I've had and the programming languages I learned there (that I didn't use most of it by the way); I had to dig my way into learning the right things to kick off my career. Well having the ability to personally leveling up my tech skills has allowed me to obtain a greater sense of self-reliance, and the feeling is freaking awesome!
Thus, after building a website or application -even simple ones- there is always a feeling of accomplishment which is really addictive you won't help yourself wanting to have it again.
Everybody got choices, and there is nothing more torturous, than working the same job everyday, especially if the job you are working, is one that you don't enjoy. Do what you love, and you will never work a day in your life.
Happiness is achieved when someone reaches a point in their career, that the work they are doing seems more like a fun activity, than actual work itself. And in the end of the day, the most important thing is to be happy:
and i couldn't be happier
I'm a coding fan, open source contributor, occasional writer at blog.maroun.me